TC Electronic G-System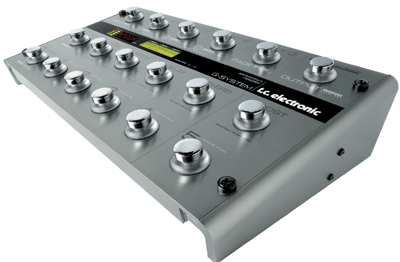 As of the Summer NAMM Show, recently held in Indianapolis, IN, TC Electronic is now shipping its new flagship guitar processor, the G-System. G-System is an all-in-one switcher, router and mixing and guitar effects system that allows guitarist to combine their favorite stompboxes and pre-amps with top-notch effect processing from TC Electronic.

G-System offers a unique combination of 25 built-in studio-quality guitar effects along with analog loops, amp switching, and 9-volt power outputs for external pedals in a single system. This flexible design allows for rack or floor-based set-ups, external effects routing, customizable footswitch layout and up to nine effects simultaneously. We like G-System's heavy-duty aluminum faceplate and the 18 large custom-designed chrome switches. This 'overbuilt' design looks impressive but more importantly ensures mechanical stability and protection against dust or liquid.

Switching effects on G-System is smooth with delays completing their tails even if you've switched to another patch already. There are four mono loops to add any of your favorite stomp boxes and another loop for inserting a guitar pre-amp. On-board effects include: Filter with auto or manual wahs, formant and high resonance filter types; Compression--both transparent and rude; an ultra fast noise Gate; Modulations--TC's Chorus, flanger, phaser and tremolo; Pitch--shifting up and down two octaves, whammy and stereo image detune; Delay features TC's 2290 delay effects like ping-pong, dynamic and reverse delays; Reverbs (rooms, plates, springs and halls) are all guitar-tailored; Tuner with output mute while tuning; and Extras with boost mode, tap tempo/MIDI tempo for locking in delay times and extensive expression controller control setup.

G-System sells for $2,245 MSRP and you have the choice of either rack mounting all your extra effect units and pedals along with the GFX01 'brain' and connecting the pedal control board with a single cable or put the GFX01, pedal board and all effects into a single floor unit. Either way, you'll have the newest, state-of-the-art effects and switching system along with all your tried and true favorite boxes in a single great sounding rig! For more information, check www.tcelectronic.com.











---