Vocals--The Singing Voice by TipBook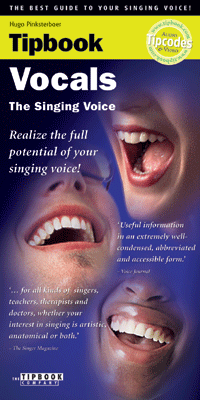 Tipbook Vocals--The Singing Voice is one of the first of fourteen volumes of the Tipbook Series, a series of handy, accessible, and highly informative books on music and musical instruments--including the Vocal Instrument.
Priced from $9.95 to $11.95, the Tipbook series are pocketbook guides for singers and musicians for quick reference to confront problems and questions. In addition to the easy to grasp chapters, a great glossary and index of musical words, terminology and definitions there are Tipcodes--coded links to short movies, sound clip examples and photos at www.tipbook.com. Tipcodes are printed throughout the books and are a big help in understanding the many new concepts you'll learn with these books.
Tipbook Vocals--The Singing Voice is a convenient guide for singers in any style of music and at any level or age. For solo singers as well choir members, background vocalists and other singers, there are ten chapters starting with an introduction to the vocal instrument and all its parts and then subsequent chapters progress through taking lessons, singing well, registers, voice types and ranges, voice care, remembering lyrics, microphones and effects and finally a short history on vocalizing.
The 'Want to Know More' section in Tipbook Vocals lists vocalist's magazine, books, websites and additional information. Hal Leonard distributes Tipbooks, check out www.halleonard.com, www.musicdispatch.com, or contact the Tipbook Company, www.tipbook.com, info@tipbook.com or telephone phone +31 20 665 0109.
---