Trade Secrets - Book One from Stewart-MacDonald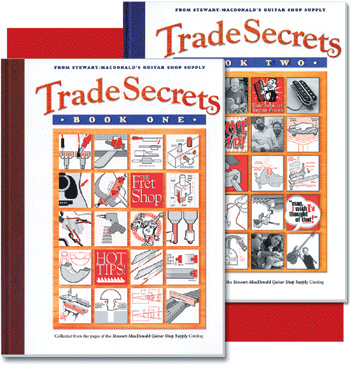 The two best selling books in the Stewart-MacDonald catalogue are Trade Secrets - Book One and Trade Secrets - Book Two. Both these books are full of master repairman Dan Erlewine's popular articles that previously appeared in the Stewart-MacDonald Guitar Shop Supply catalogues starting in 1990. Collected together now in single books that wrap up the first nine years of articles, there are also extensive additions from Mike Lindskold's "Guitar Wiring 101" columns.
Book One has 142 pages and covers back issues 1 to 19 while Book Two covers issues 21 to 38 in 165 pages. That missing issue #20, an eight-page bonus volume, only appears in Book One. Both books are filled with illustrations, price lists, hot tips from technicians around the world and are very useful reference compendiums to have ready when you "do-it-yourself" repairs on your prized guitar or bass. There are visits to guitar shops and factories, plus tips on tools, building and repair techniques.
Trade Secrets - Book One or Book Two sells for $19.95 each directly from Stewart-MacDonald at P.O. Box 900, Athens OH 45701. Telephone 800-848-2273 or www.stewmac.com/books
---