UmixIt Technologies CD Release Format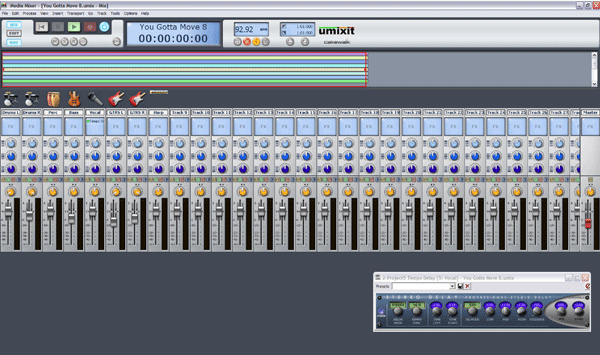 UmixIt Technologies has come up with an exciting new CD release format that allows listeners to "remix" their favorite albums. A number of major record labels are pondering whether to incorporate UmixIt into their major 2005 release schedule.
UmixIt cracks open the door of the recording studio to show the consumer how to isolate, mute, and change the levels of individual instruments or add in new drum beats and loops to create personalized remixes. An UmixIt disk contains, in addition to the artist's original audio tracks, an 8-track version of a song, a 16-track version, a collection of royalty-free ACID-format loops and a modified version of Cakewalk's Media Mixer application.
For PCs only, you have to run Windows 2000 or XP on a 1 GHz processor with 256 MB RAM, 200 MB free hard disk space, a 1024 X 768, 16-bit color monitor, a CD-ROM drive (for installation) and a Windows-compatible sound card. The virtual mixing board gives amateur musicians the chance to plug their own instruments into the sound card and record their own part (including vocals).
"You never know what you can hear between the tracks unless you can solo them," says Steven Tyler, front man for the band Aerosmith. "We've made that possible without having to go to a recording studio. You can hear things like Joe [Perry] stomping his fuzz-tone, and shoving his guitar into the amp for feedback, not to mention me clearing my throat and singing the wrong lyrics for all the right reasons."
For a test run last November, UmixIt and the band Aerosmith included a bonus UmixIt track of the song "You Gotta Move" onto the band's newest DVD release entitled You Gotta Move. UmixIt discs cost the same as regular CDs with 2-song UmixIt singles coming soon that will cost $3 to $4. For additional information about UmixIt, go to www.umixitmusic.com
---