Verbatim Mini DigitalMovie DVD-R/RW Discs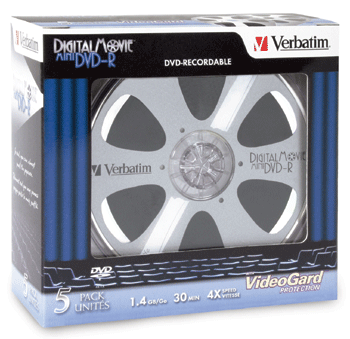 Following on the heels of the very popular 4.7GB DigitalMovie media with that classic, realistic movie reel look, Verbatim now offers the same style in a Mini DVD format. These 1-4X DVD-R and 1-2X DVD-RW discs are just three inches in diameter (about 6cm) and have up to 1.4GB of space. These Minis work in Hitachi®, Panasonic®, Sony® and other camcorders for a running time of 30 minutes of high quality video--depending on recording mode.
Of course myself, being a recording engineer, I found these perfect for backing a day's worth of Pro Tools audio files or for copying huge MP3 collections. Besides being as cute as can be, with over twice as much space as a CD-ROM in half the size, these discs are winners all around. You also get Verbatim's VideoGard™ technology to make them scratch resistant under normal conditions.
Verbatim's Mini DVD-R discs come in five packs and the DVD-RW discs come in three-packs both for $12.99 each. Verbatim is in Charlotte, NC so telephone them at 800-421-4188 or visit www.verbatim.com.
---