Verbatim Store 'n Go™ Pro Line of USB Flash Drives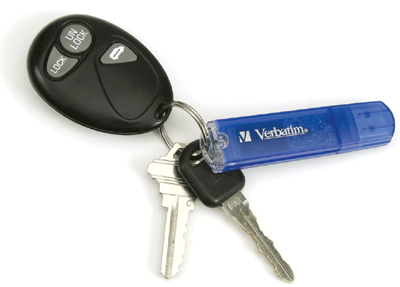 I've been carrying around a Verbatim USB drive on my keychain for about a year now and I can say that it is a very handy gadget for quickly grabbing a copy of that mp3 file, digital photo or text document from your friend's computer or just moving files to and from my home computer to the studio's. Sure beats burning CD-Rs!
New for the Verbatim Store N' Go Pro Line USB Flash drives is speed. These drives, available from 256MB to 2GB, have a maximum write speed of 14MB/sec (equivalent to a 90X CD-ROM burner) and a read speed of 23MB/sec (like having a 150X CD-ROM drive). I can transfer a 100MB folder in about seven seconds. So not only do you avoid adding yet another CD-R to a landfill, you'll get your data transferred and copied much faster!
Verbatim's Flash drives come ready to work with Windows® 98SE (with driver), ME, 2000 and XP, MACs running OS 9 or OSX and also any Linux ver 2.6 or higher. The drives also come with V-Safe Security--a way to partition the space into password-protection sections with secure data encryption--good to have used if you were to lose or misplace a drive full of your precious financial records. V-Key File Synchronization is also included to manage data between the drive and connected computers so that your backup is always current and up to date.
Each Store 'n Go Pro comes with a an unique serial number, lanyard and stick on labels and sell for $74.95 for the 256MB to $599.95 for the whopping 2GB model.
For more information, contact Verbatim® Corp. in Charlotte, NC at 800-421-4188 or www.verbatim.com
---