Verbatim® Ink-Jet Printable Digital Vinyl CD-Rs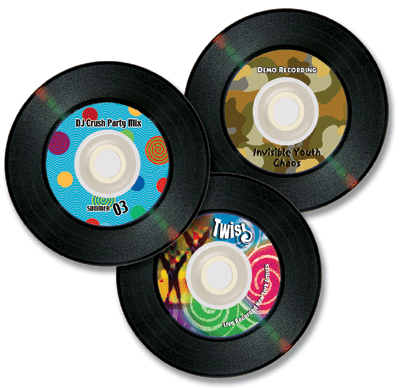 Verbatim has updated their very popular Digital Vinyl™ CD-Rs, which look like miniature vinyl 45-RPM records--grooves and all, with a printable label compatible with inkjet CD printers.
You get the same 80min/700MB CD-Rs that use blue azo recording dye resistant to UV deterioration and a dual-protection cover layer for maximum scratch resistance. These protective layers make these CD-R's estimated archival life to be more than 100 years. The printable surface is specially formulated for good ink adherence and excellent reproduction of text and graphics.
With a limited lifetime warranty, look for Verbatim's Printable Digital Vinyl CD-R media in either standard 45-rpm record black-vinyl or gold/platinum colors packaged as 50-packs at $35 MSRP. More information at www.verbatim.com or telephone them at 800-421-4188.
---