Vox Cooltron Tube-Based Effect Pedals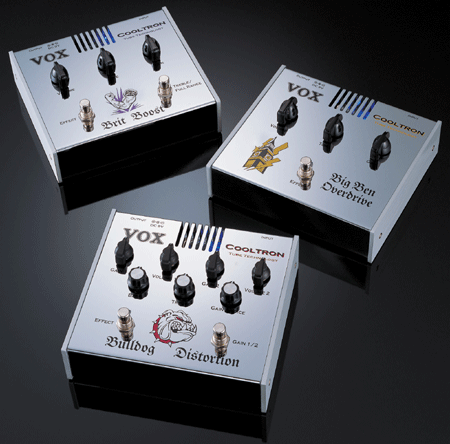 VOX Amplification has three new guitar effects pedals that each rely on a single 12AU7 (ECC82) tube for their core tone yet run on four AA batteries--no bulky, external AC power supply required. Vox emphasizes that this is big breakthrough for guitar pedals--these don't quickly suck the life out of the batteries either.
Bulldog ($225) is a switchable dual channel unit--each channel with its own Gain and Volume controls. Gain 1 is a vintage distortion while Gain 2 delivers more modern and aggressive goods with a carved out midrange. There are also both Bass and Treble controls as well.
Brit Boost ($225) is said to sound like a vintage Treble Booster but it also functions as full-range boost too. You can use the pumped up lower midrange from this pedal to put an overdriven amp into full-blown overdrive.
Big Ben ($200) is a warm overdrive that responds to player dynamics and is perfect for solos and standouts. Gain, Tone and Volume controls are all there.
All three Cooltron pedals run for about 20 hours and there is nine-volt AC adapter available. More info from VOX Amplification 631-390-6500 or go to www.voxamps.co.uk
---