BackBeat Books Wired: Musicians' Home Studios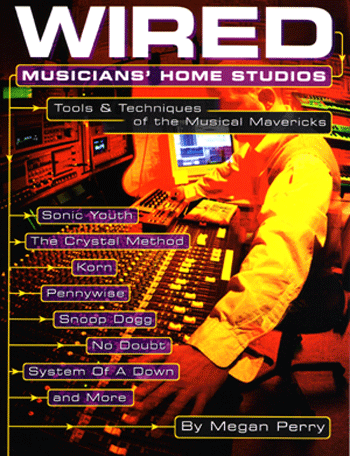 What might be, at first glance, just another gratuitous tribute to some currently popular recording stars turns out to be a practical and useful book about real-world home studios. Enjoyable on several different levels, this 192 page book is an inside look at personal studio setups of artists and members of bands like: No Doubt, 311, Sonic Youth, Crystal Method, Snoop Dog, Korn, BT and others.
A whole chapter is devoted to each of these artists. There are pictures depicting studio equipment, behind the racks wiring, musical instruments, studio recording setups, amps, microphone placement, lounges (or not) and quirky personal possessions and totems. From the band interviews and pictures you'll easily soak in the whole atmosphere and vibe and the way these musical trendsetters go about their creative process.
Author Megan Perry freely mixes tech talk with personal insights from band members to explain their own unique version of DIY album (Do It Yourself) production. Perry sets no defined structure for each chapter with some featuring very technically detailed gear explanations and definitions and other chapters covering more 'mass-appeal' human interest topics like: Systems of Down's Daron Malakian's penchant for skulls and skeletons. Besides learning some of their recording secrets, you'll find out what is important to these artists when trying to achieve their own vision and learn where, how, when and what not to waste time and money on.
A fascinating and quick read, Wired: Musicians' Home Studios sells for $22.95 and available from Backbeat Books. www.backbeatbooks.com




Wired: Musicians' Home Studios
---