Zon Mosaic BB5 5-String Bass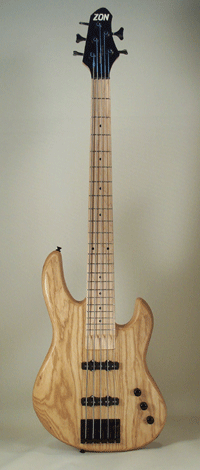 One of the standouts at the last Winter NAMM Show was Zon Guitars' new Mosaic BB5 model 5-string bass guitar. The Mosaic BB5 was designed in collaboration with Vital Information bassist extraordinaire Baron Browne.
The Mosaic BB5 is a 35-inch scale bass with an ash body, a three-piece bolt-on maple neck with maple fingerboard, and Zon's new flat finish. The Seymour Duncan Jazz Bass-style pickups and passive electronics voice the BB5 to a classic Jazz Bass tone. I liked the enclosed mini tuners and Zon's machined brass 19-mm bridge.
Baron Browne offers some tone tips and great information: "...with both volume controls up to full, the bass is very punchy allowing one to get a Motown-y tone by plucking near the neck or a Tower of Power bottom-yet-percussive sound when closer to the bridge. Those who are fond of a more Pastorius-bridge-pickup tone by turning down the front pickup will be pleased to find a nice low-mid slicing warmth without sounding too 1kHz nasally. This bass has an active presence to it without having active electronics in it."
Other details: the neck is three-piece quartersawn maple; the fingerboard is also maple with side and face dot markers; graphite nut; 22 narrow frets; Urethane flat natural standard finish; two Seymour Duncan Custom Shop single-coils designed exclusively for Zon; all-passive controls with neck pickup volume, bridge pickup volume, and master tone control; tuners by Gotoh GB-7; and all black hardware.
For more information, contact Zon Guitars at 650-366-3516 or visit www.zonguitars.com
---