Zoom G2 Guitar Pedal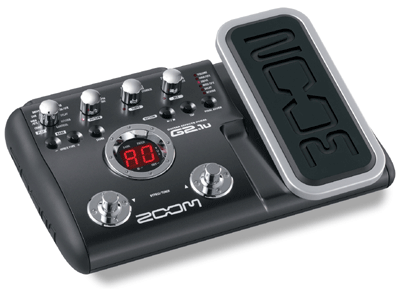 The new G2 (guitar), B2 (bass), and A2 (acoustic guitar) are based on the all-new ZFX-3 processor: 32-Bit Processing, 96kHz sampling, 24-Bit A/D, D/A converters. Like professional digital audio recording gear with a 96kHz-sampling rate, the harmonic quality and warmth of a tube amp can be rendered with extreme accuracy, without compromise over the entire frequency range--actually way past it--up to 40kHz. With 24-bit A/D-D/A converters both dynamic range and noise floor are at studio quality levels as well.

All three pedals have 40 preset effects patches, memory space for 40 user creations, and a drum machine with 40 patterns. The G2 guitar pedal has 16 models of classic drive tones. These advanced models also add a USB audio interface for connecting to a computer and each ships with a copy of Steinberg Cubase LE DAW recording software as well.

The combination of solid metal construction with shock-absorbent rubber damping ensures that G2 can stand up to the rigors of the road and the stage. The G2 sells for $164.99 and for more information, visit at www.samsontech.com or www.zoom.co.jp.











---