Audio-Technica Updates The Artist Series Mics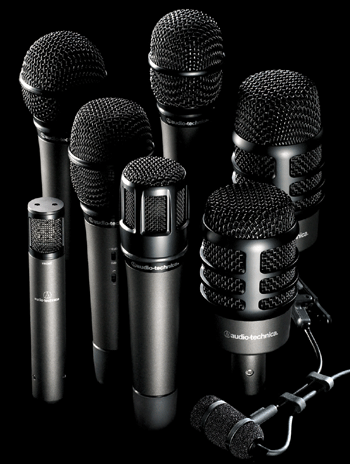 A tweak here, a tuck and an improvement over there--good things to hear from a manufacturer like Audio-Technica who is always striving to make their products the best they can be. This generation of the classic Artist Series live sound microphones was the result of extensive market research and consultations with leading touring artists and FOH engineers. These sturdy, all-metal microphones feature the frequency response and low distortion characteristics necessary to reproduce virtually any sound source faithfully.
The handheld microphones include the ATM710 cardioid condenser, ATM610 hypercardioid dynamic and ATM410 cardioid dynamic. They all have broad frequency response, extremely low handling noise, and an attractive all-black look.
Tailored for clear, full-range reproduction of acoustic and amplified instruments, the Artist Series instrument microphones feature fast transient response, low distortion/noise, and a rugged, durable construction. These mics offer crisp, clear, well-balanced response, even at high SPLs. The Artist Series instrument microphones include the ATM650 hypercardioid dynamic and ATM450 cardioid condenser along with a clip-on model, the ATM350 cardioid condenser.
The ATM450 is an innovative side-address stick design great over drum kits or a percussionist. The ATM350 includes both a new violin mount and versatile UniMount flexible gooseneck while the ATM250, ATM250DE and ATM450 come with a professional isolation clamp that provides versatile positioning and effective mechanical noise dampening.
The upgraded ATM250DE dual-element kick drum mic--a perfectly locked in phase cardioid condenser and hypercardioid dynamic is also excellent for toms, guitar and bass cabinets as well as brass and upright bass. The ATM250 hypercardioid dynamic is ideal for high SPL applications including kick drum, toms, bass, brass and upright bass, offering rich, warm low-frequency response.
Here are MSRP prices: ATM410 $169; ATM610 $249; ATM710 Cardioid $299; ATM250 $329; ATM250DE $549; ATM350 $449; ATM450 $369.00; ATM650 $169. Audio-Technica at 330-686-2600; Web: www.audio-technica.com
---
Web Page design is copyright © 2006 by Barry Rudolph