AudioTile from Auralex Acoustics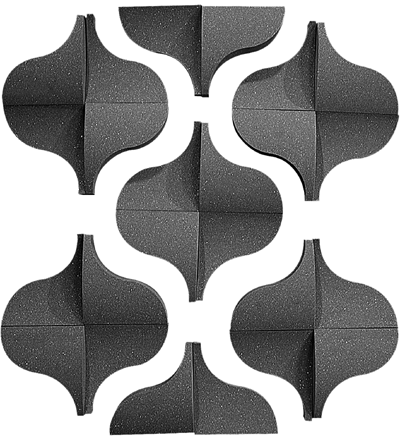 AudioTiles are eye-catching foam shapes in various thicknesses that absorb sound energy and echoes over a broad frequency range. Designed by Russ Berger for Auralex Acoustics, AudioTiles come in four different tessellated shapes that can be arranged into many aesthetically pleasing designs--a welcome change from typical square or rectangle foam absorber panels seen in most studios. AudioTiles are made from Auralex's proprietary Studiofoam formula to ensure superior durability and Class B flame retardancy and come in 24-piece sets. That's six copies of each of the four basic shapes.
The new 24-piece set includes detailed step-by-step instructions on how to build seven striking designs that effectively treat one, eight by ten-foot wall or ceiling in your studio or home theatre. By listening, mixing and recording in a well-controlled space free of reflections, resonances and minimal low frequency problems, your music's sound balance will translate to other playback systems better. Performing and singing in such treated rooms is a pleasure--you will hear yourself nicely with a clear and open feeling without hollowness. This is especially true for smaller rooms.
I installed a kit of 24 AudioTiles on the back wall of the studio to take care of the nasty reflections that added an annoying "boing" to the room's tone. We went with the "Ace of Spades" shape (pictured) and were able to put up a total of six in two columns. AudioTiles go up easy using Auralex's FoamTak spray adhesive. Results are immediate: that boing disappeared and the whole room tightened up with a better stereo image and a focused bass response.
AudioTiles sells for $159 MSRP for a box of 24. They are just one of the first offerings in the new pArtScience product line. For much more about AudioTiles, go to www.auralex.com or call 1.800.95WEDGE.

---
Web Page design is copyright © 2006 by Barry Rudolph