Auralex Acoustics' SpaceArray Diffusor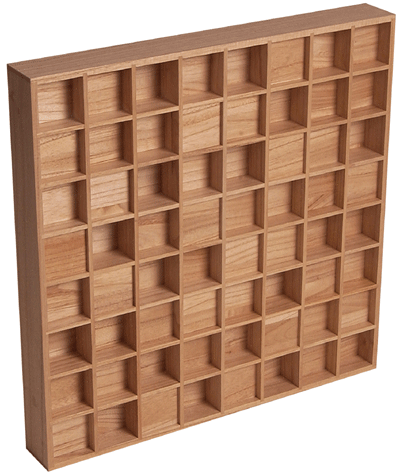 In the world of acoustical sound control and treatment, a diffusor spreads out the reflections of sound waves within a room in a (hopefully) pseudo-random way. The result is a room free of flutter echoes and other acoustical anomalies. The randomization of reflections evenly distributes the sound in the room making mixing and recording in that room much easier and better. It may sound corny to say it, but rooms that are properly acoustically treated are more pleasant work and be in.
Designed by Russ Berger for Auralex Acoustics, the SpaceArray is a hemispherical acoustical diffusor--another product in Auralex's pArtScience line. It is handmade and finished in solid Paulownia wood--a popular choice for musical instrument construction. Measuring 2 by 2 feet square, a single SpaceArray module is comprised of a grid of 64, two-inch square wells of varying depths. SpaceArrays are ideal for control rooms, auditoriums, performance venues, listening rooms, home theaters and worship spaces.
I mounted two SpaceArrays on the ceiling space directly above my mixing position in my Pro Tools studio. The units mount easily with four screws and the included mounting bracketry. Additional Paulownia squares are provided to hide the mounting screws. Besides the great and modern look, the change in sound was immediate--I found my monitor speakers focused the sound image better at the mix position and the low frequencies became more solid and tighter.
Along with the other Auralex products I use in my studio; ProFusors, ProPanels, Great Gammas and Lenrd bass traps, I've achieved professional looking and great sounding results.
SpaceArrays come in boxes of two each and sell for $798 MSRP. For much more information, contact Auralex Acoustics at: www.auralex.com or call 1.800.95WEDGE.
---
Web Page design is copyright © 2006 by Barry Rudolph