Snowball USB Microphone From Blue Microphones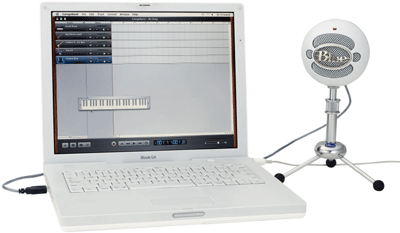 Blue Microphones, makers of uniquely styled and imaginative high-end classic studio microphones, applies their innovative technology and inimitable styling to produce the Snowball USB microphone.
The irresistibly 'cute' Snowball microphone is designed for desktop recording studio applications, Pod casting or Internet telephony. The mic's universal driver and plug & play USB 2.0 compatibility make recording into your MAC or PC laptop or DAW's computer quick and easy. More than just a simple pickup mic, this is a dual-capsule design with switchable cardioid and omnidirectional patterns each with different frequency responses. The cardioid has a neutral sound great for all uses especially vocals while the omnidirectional pattern has a brighter sound good for recording instruments. A three-position switch switches patterns and also a -10dB attenuator on the cardioid pattern for loud or super close sound sources.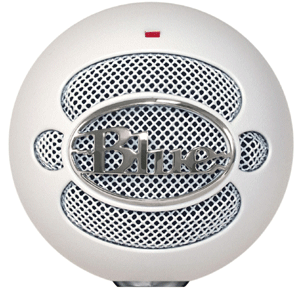 I immediately put the Snowball to work as my Skype/iChat mic on a G5 Quadcore Pro Tools computer. The G5's Cinema Display does not come with a built-in mic but the Snowball shows up in the Sound Preference panel as soon as I plugged it in. I like the bright red LED on the mic to let me know right where the mic is and that it is working--even in a darken room. I also like the sound--clear and present with enough background noise rejection (in cardioid) to cancel out other sounds coming from around the house and outside.
With an accessory pack that includes a thick USB cable and mic stand; the Snowball sells for $159 MSRP. Optional accessories include The Ringer, a custom shock mount that works on all Blue Ball mics. Visit www.bluemic.com for more information.
---
Web Page design is copyright © 2006 by Barry Rudolph