Cakewalk Dimension Pro ver 1.2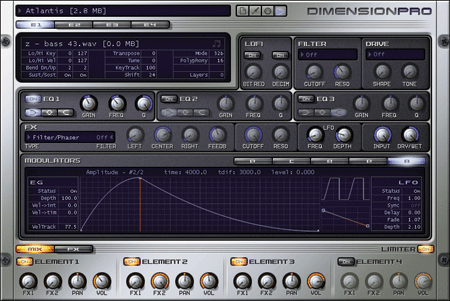 Cakewalk's Dimension Pro, an advanced synth that combines real instruments with advanced synthesis, is now available in a RTAS version and native plug-in support for Pro Tools on MACs and Windows XP Pro x64 Edition. The updated DXi format runs natively in SONAR 5 on the new Windows XP x64 Edition with Intel and AMD x64 chipsets. Dimension Pro's x64 implementation accesses up to 128 GB of RAM allowing for more simultaneous instances for running larger sampler banks.
Other great upgrades are REX support--load REX format loops, .sfz format grooves files into any element, and standard .sfz multi-sample format. Dimension Pro can now load native Scala .scl micro tuning files for experimenting with musical tunings, such as just intonation scales, equal and historical temperaments, microtonal and macro tonal scales, and non-Western scales. Users can now assign any knob on the screen to any MIDI controller(s) including Aftertouch and Pitch Bend.
One of the first things I noticed when using Dimension Pro was the great sounding seven new reverb algorithms: Small Room, Mid Room, Large Room, Small Hall, Mid Hall, Large Hall and Chamber. You can patch these reverbs along with the new distortion algorithm in the Insert FX section. This section now also allows copy/paste entire FX settings between Elements. Sweet!
Dimension Pro is the most complete virtual synth in my collection of ten. It has huge sounds that load immediately and the interface couldn't be simpler.
The upgrade is free to registered owners of Dimension Pro and if you're not an owner, get on board for just $249 MSRP. You can cross upgrade from Project5 ver 2 to add Dim Pro for $99. For more information call 617-423-9004 or visit www.cakewalk.com.
---
Web Page design is copyright © 2006 by Barry Rudolph