Cakewalk Rapture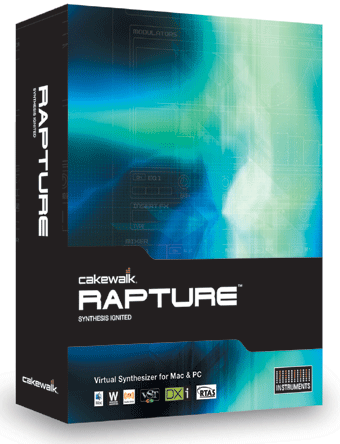 Rapture is the second (after Dimension Pro) in Cakewalk's new line of virtual synths that will run on any DAW/sequencer system platform in common use. Rapture's installer CD-Rom includes versions in Audio Units (AU), RTAS, Dxi (both 32 and 64-bit) and VSTi formats.
Rapture is a wavetable synth with a virtual front panel that enables endless tweaking of any of the sounds in its vast included library of over 600 sounds. The 600 include Basses, Leads, Pads, Arpeggios, Textures, Electronic Percussion and Sequences.
I installed Rapture's RTAS version into my Pro Tools rig and went to work. I liked the modern looking interface, the comprehensive MIDI Control Matrix and the X/Y pad for assigning multiple Rapture parameters to X and Y-axis--this is cool for live performance.
This synth has a lot of Electronica/Dance/Rave/Techno oriented sounds but the interface is so complete, you can take any of the sounds and change them radically to fit any musical style/genre.
Features you'll find important for programming and operation are: pristine sound quality due to the non-aliasing resampling engine; six fully-programmable, stereo sound-generating Elements with mixer; multi-waveform oscillators with ring modulation; two 16-mode filters per oscillator with LoFi and Drive effects; over 40 envelope generators, LFOs, and step generators; MIDI Modulation Matrix; and global FX and dynamic Step Generator.
Basically you can mix together up to six different Elements that comprise a Program. The Global FX Stage has three multi-effect units with nine delay and three different Choruses, three parametric EQs, and a dynamic Step Generator for volume with independent L/R control. Much more than I can't fit here so check out www.cakewalk.com or call 617-423-9004. Rapture sells for $199 MSRP.
---
Web Page design is copyright © 2006 by Barry Rudolph