Sonar 6 Producer Edition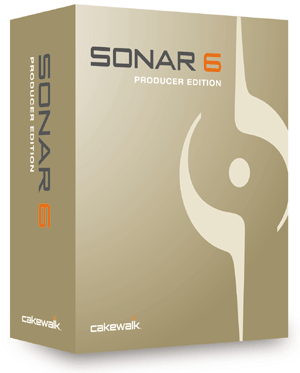 Cakewalk has set the bar very high for music production software with Sonar 6 featuring the first 64-bit, double-precision mix engine and true 64-bit end-to-end signal path. But that is only just the start of the fantastic new customizable innovations that come with Sonar 6!
Impossible to fit all the details in this space, so here are overviews of the new features in Sonar 6. Active Controller Technology (ACT) will change and 'turbo-boost' your work process by dynamically mapping effects, mix and instrument parameters to any MIDI control surface. The AudioSnap suite of audio timing tools uses iZotope's Radius percussion mode and multiple time stretching algorithms for timing correction/manipulation of recorded parts, quantization of an audio track with the rhythm of another, lock multiple tracks into the same groove, instantly change project tempo, quickly convert audio rhythms to MIDI data, slip-stretch clips to a new time or length--even quantize multiple tracks in relation to each other.
Both the redesigned Track and Console views have advanced customization and navigation that complements a comprehensive bussing architecture, concise automation controls, real-world metering ballistics, integrated per-channel parametric EQ with plot display, and true surround busses and panning. The VC-64 Vintage Channel, powered by Kjaerhus Audio sounds, operates, and looks like an analog channel strip.
The fully integrated Plug-in Manager lets you create, edit, and save custom menu layout files and organize plug-in menus to make finding the right plug-ins easier. VST support is seamlessly integrated into Sonar 6 and no longer requires an external VST to DX adapter. All VST specific operations are now performed completely within Sonar or the Plug-In Manager.
Sonar 6 comes with Session Drummer 2--the fastest way to create inspiring, realistic drum tracks using real, multi-sampled drum kits paired with professionally recorded drum patterns; Perfect Space Convolution Reverb powered by Voxengo; POW-r Dithering; Lexicon Pantheon Reverb; Roland GrooveSynth, TTS-1 DXi multitimbral GM2 synthesizer, Cyclone groove sampler, DreamStation, PSYN II, Pentagon I, RXP groove player, and SFZ. Audio and MIDI Groove Clip looping with ACID-format loop support. SONAR 6 Producer Edition sells for$619 MSRP while, SONAR 6 Studio Edition is $369 U.S. So much more at www.cakewalk.com.
---
Web Page design is copyright © 2006 by Barry Rudolph