Casio PX-700 Digital Piano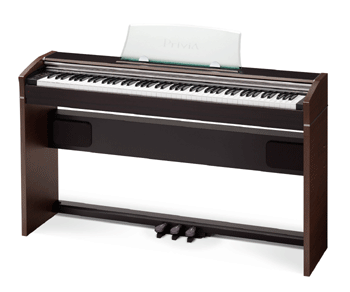 Striking in its sound and refined styling, the PX-700 Privia Digital Piano is lightweight, compact and uses the traditional components of a cabinet piano such as a sliding keyboard cover.
The PX-700 is said to provide a polished baby grand piano sound due to its second-generation spring-less hammer system similar to those used in grand pianos. The PX-700 incorporates powerful and loud, eight-watt speaker enclosures underneath the keyboard that swivel to face either the player or the audience.
The PX-700 comes with eleven sounds, split/layer modes, digital effects, and 60 pre-programmed songs. There is also a 'lesson mode' that can be switched on/off any time. There are MIDI In/Out jacks, headphone jacks, an integrated stand and the grand piano's standard complement of three pedals.
Other digital pianos in the Privia line include the PX-110 and PX-310, which include string, pipe organs and other sounds that can be layered across the keyboard. Like the PX-700, it also incorporate Casio's ZPI Tri-element sound source for a true, rich grand piano sound. The PX-400 is a full ensemble piano with auto-accompaniment and a host of other features.
For more information on the PX-700 or any other digital pianos in the Casio Privia series please visit www.priviapiano.com.
---
Web Page design is copyright © 2006 by Barry Rudolph