Cycling '74 UpMix Surround Mixing Plug-ins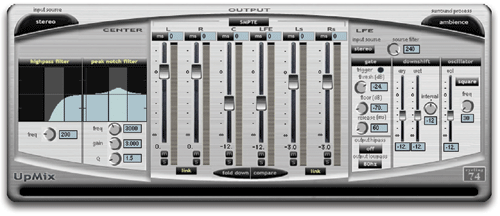 UpMix is a collection of six plug-ins for mixing surround sound in a DAW. It uses proprietary algorithms to convert stereo or mono audio tracks into viable 6-channel sources suitable for Film, DVD, HD Broadcast and Music surround mix formats. Each plug-in, where applicable, has switching for SMPTE, DTS or Film/TV surround sound standards.
After reconfiguring my Pro Tools HD TDM system from standard stereo into a 5.1 surround mixing system, I installed and used the RTAS version of the plug-ins to reconfigure conventional stereo music mix elements such as drums, percussion, bass, guitars, keyboards and vocals into realistic surround sound elements. UpMix is available for users of Pro Tools TDM, Steinberg's Nuendo and Cubase SX 3 and MOTU's Digital Performer.
The UpMix plug-in suite begins with five very simple-to-use, low DSP usage plug-ins: ReRoute is a virtual patchbay for changing the routing of the six stems used in surround mixing from one standard to another; ReBalance provides six level faders for rebalancing the six audio channels of an interleaved file or bus (i.e. channels already fixed and combined within a single digital audio file); Foldown lets you hear your surround mix folded down to stereo; Rotator is a circular panner for mono, stereo or 5.1 audio sources; and LFE-6Chan extracts and/or generates subsonic audio from individual tracks or entire stereo mixes to feed the .1 LFE channel--I wish I had a stereo version of this plug! All the controls on these plug-ins are automatable.
With the exception of ReRoute and Rotator, all the functionality of these five are available within the much larger (and I assume more DSP hungry) UpMix master plug-in. UpMix includes a Center Channel processor for deriving a distinctly sounding center channel audio from existing stereo or mono tracks. The Surround Module has five modes to derive surround channel audio. There are Ambience, Immersion, Spread, Quad, Multidepth and Mirror modes and suffice it to say (and I wish I had the room here to elaborate) ALL possibilities are covered and you should download and check the brilliant manual for all UpMix can do for you.
UpMix is $495 MSRP from www.cycling74.com and is an absolutely essential toolkit necessary for professional surround mixing! I found it to work wonderfully in Pro Tools opening many creative avenues--especially for me, this stereo-centric mixer!
---
Web Page design is copyright © 2006 by Barry Rudolph