Dean Markley DME-3 Outboard Pre-Amp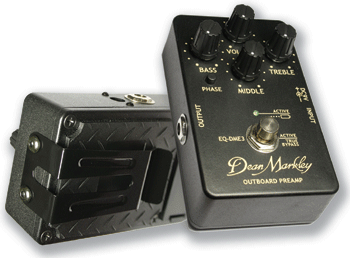 Dean Markley's DME-3 Pre-Amp provides +/- 10dB boost/cut in three different frequency ranges: treble, mid, and bass. Originally intended for augmenting acoustic guitar amplification--specifically the Dean Markley West Coast Series of pickups, the DME-3 has found its way into applications for other instruments--acoustic and electric, pro sound, and studio audio.
Built in a die-cast metal case with removable belt clip, the DME-3 has three control knobs for the aforementioned three-band equalizer, a heavy-duty stomp footswitch, polarity or reverse phase button, and LED indicator. There are stout 1/4-inch and input and output jacks and a DC input jack for an external power source. Normally, the unit is powered by an internal nine-volt battery. The DME-3 measures 2 3/4 x 4 1/2 x 1 1/8-inches. Much more about this one at: www.deanmarkley.com.
---
Web Page design is copyright © 2006 by Barry Rudolph