Digidesign Hybrid Synth Plug-In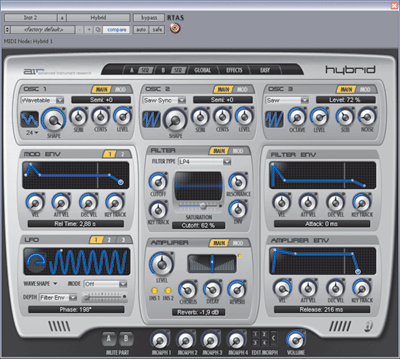 One of the Digidesign Advanced Instrument Research group's first offerings is called Hybrid because it combines classic analog waveforms with digital wavetables to produce everything from traditional synth sounds to 'never heard before' sonic wonders.
To accomplish this, Hybrid comes with 256 great preset patches comprised of a full range of analog and digital sounds just itching to be edited. I found the adjustable parameters easy to manipulate for realizing fat, complex patches from the two distinct sections, each with three high-definition, sample-accurate oscillators with multiple wave modes; four envelope generators; three LFOs; 23 filter modes with true saturation; and two insert effects.
For Pro Tools only in RTAS format, Hybrid is a player's synth but you can use the step sequencers for arpeggiation or phrase generation. The modulation matrix maps sources to destinations and you can "morph" groups to modify sounds on the fly, from the GUI or your MIDI controller. Other features are: a sample-accurate synth engine for super-fast envelopes; filter FM, two effects inserts per part, and a master effects section.
To purchase Hybrid at $249 MSRP, visit the online DigiStore at www.store.digidesign.com or your local Digidesign Authorized Reseller. Hybrid is also available as part of Digidesign's Music Production Toolkit at $495 MSRP for Pro Tools LE and M-Powered. For more information, visit www.digidesign.com.
---
Web Page design is copyright © 2006 by Barry Rudolph