DigiTech Brian May Pedal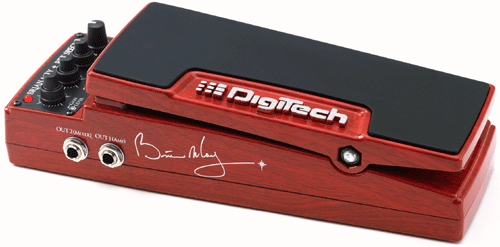 The Brian May Red Special Artist Series pedal was developed using the original master recordings of legendary guitarist and Queen founding member, Brian May. May's collection of vintage instruments, including the Red Special handmade guitar, effects and amps used in both the studio and on stage were incorporated to model the tones within this pedal.
Major and immediately recognizable effect models are treble booster, Foxx Foot Phaser, VOX AC30 as well as delay, pitch shifter/harmonizer, reverb and more.
The pedal features a hard-wired dynamic analog treble booster and a Guitar knob designed specifically for Brian's guitar or to re-voice single coil and humbucker pickup-equipped guitars to sound like the Red Special. There are also a Flexible Output Mode and controls for Gain, Level, Treble, Bass and Model Control. The expression treadle serves as a variable control for some of the models and is also used for engaging the heel and toe mode switches allowing selection of two distinctive tone variations of each model. The pedal has a vintage wood grain finish inspired by Brian's Red Special, and comes complete with custom embroidered gig bag, power supply and Brian's plectrum of choice, a British Sixpence!
The tones modeled are (by Queen song title): "Keep Yourself Alive," "Bohemian Rhapsody," "Tie Your Mother Down," "We Will Rock You/Champions," "Crazy Little Thing Called Love," "Brighton Rock Solo--Live," and "Deacy Tone/A Winter's Tale."
For more information, contact at: 801-566-8800 or visit: www.digitech.com.
---
Web Page design is copyright © 2006 by Barry Rudolph