Reflex 1/Reflex 2 from Disc Makers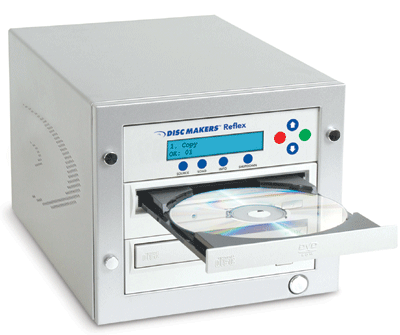 The Reflex 1 (model DUP010-10010) is a CD and DVD duplicator that makes a one-to-one copy of any media disc--be it a music or data CD-ROM, a DVD-R or even dual/double layer DVD disc. (Sorry, copying of CSS-protected DVDs is not allowed) This standalone unit could not be easier to use: simply put the disc you want a copy of in the top drawer and a blank in the bottom and push a single button. You can make about 15 CDs or 8 DVDs per hour (burn DVDs at 16X and CDs at 48X) using this unit and I found it perfect for use in my studio to make multiple CD copies of my finished mixes. It frees up my Pro Tools system from this necessary task so I can move on with other work.
If you don't have a burner in your computer, Reflex 1 comes with a USB port for connection to a PC but USB software for MACs cost an additional $49. The Reflex 1 sells for $279 and comes with a one-year warranty, 50 16x DVD-Rs, 100 48x CD-Rs, and discounted blank media pricing for life.
Check www.discmakers.com for much more about this super-handy machine.
---
Web Page design is copyright © 2006 by Barry Rudolph