Audio Impressions DVZ Strings


Check This Major Upgrade: 70 DVZ Strings!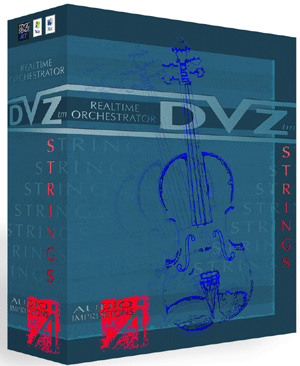 Audio Impressions, a Los Angeles-based company, has release its first of a series of Concert Series libraries of DVZ Strings. DVZ, (that's Digital Voice Zones and also an acronym for divisi a musical term that tells two musicians to play two different parts written on one staff) is a patent-pending process that orchestrates sampled instruments automatically. This process divides and assigns the notes played on the keyboard into their proper instrument sections in real-time.
This first library consists of 60 string players--any number of instruments can be switched on or off at any time, 'on the fly' even during a piece to emulate the string section sizes dictated by the composer's score--from chamber orchestra string sections to string sections used in over 100 piece orchestras. Each instrument is always available without loading or unloading to achieve every articulation, sound quality and playing style possible.
DVZ can divide strings, brass, woodwinds, voices or any other sections of like or non-like instruments. Chords played on the keyboard could be divided: the top note is played by a trumpet, the middle note on a saxophone, and the bottom on a trombone. DVZ processing is unlimited and the number of divisions increases proportionately with the number of instruments being played.
To further replicate real-world orchestras and individual instruments, DVZ measures keyboard velocity, speed and volume over time to adjust string section dynamics and time delays. DVZ will also automatically determine the correct notes, voicing, and range possible for all instruments. The DVZ process also allows entire section slurs and runs to sound realistic for creating true orchestral balances.
Audio Impressions plans to release other Concert Series libraries featuring over 125 instruments from a selectable palette of over 1,000 instruments including Baroque and ethnic, big band, percussion, drum, acoustic and electric keyboard and guitar collections. For more information please visit the website at: www.audioimpressions.com

---
Web Page design is copyright © 2006 by Barry Rudolph