First Bass from Backbeat Books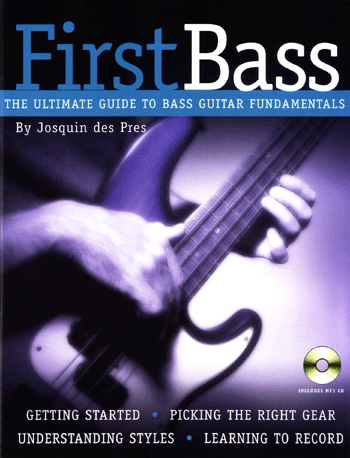 Josquin Des Pres takes the beginning bass player to the next levels in First Bass: The Ultimate Guide To Bass Guitar Fundamentals. Author Des Pres has written 14 books on bass guitar playing and two guitar instruction books. He has authored two self-help music books and produced Old School Funk Bass loop CD-ROM on Big Fish Audio.
First Bass begins with an introduction to using the book, choosing proper gear and right and left hand playing positions. Subsequent sections deal with reading scales and key signatures; fretting and plucking hand warm up/dexterity exercises; learning solid bass lines such as walking bass lines, fills and modal figures; section four is all about string techniques like slapping, muting and tapping; section five offers examples of musical genre styles like Hip-Hop, Funk, R&B, Disco, Smooth Jazz, and Rock and Metal bass styles.
Each of the sections are "mirrored" with an included music MP3 CD with Des Pres and other pros showing you the way the exercise should sound. I find these CDs perfect to play along with--there is no need of a computer or special gear. You could practice anywhere with headphones and portable CD player or iPod.
No other book I've seen does a better job of correctly starting out a person new to the bass guitar than First Bass. Highly recommended, First Bass: The Ultimate Guide To Bass Guitar Fundamentals sells for $19.95 and is available from Backbeat Books and distributed through Hal Leonard. It is available at bookstores, online or by calling 866-222-5232. Go to www.backbeatbooks.com for more information.




First Bass: The Ultimate Guide to Bass Fundamentals
---
Web Page design is copyright © 2006 by Barry Rudolph