The Golden Moment: Recording Secrets From The Pros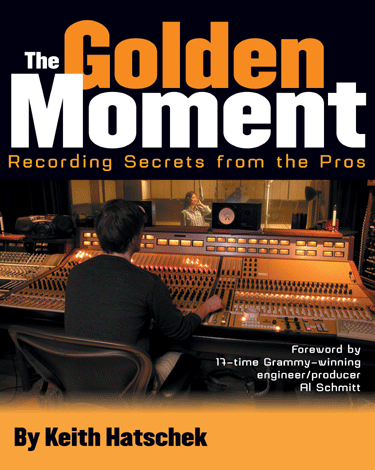 Keith N. Hatschek, Director, Music Management Program at the Conservatory of Music at University of the Pacific at Stockton CA., has written a book about recording engineers that will appeal to anyone interested in music and records and the recording process that connects them together. In one sense, the expression, the 'Golden Moment' refers to the exact instant that all the hard work and preparation by the artist, the musicians, producer, studio, engineer and songwriter(s) combine into a work product that artistically transcends that process. But a recording session day may have many small 'golden moments'--anything from the engineer adding a cool effect that turns a mundane guitar part into a musical hook to the moment the singer completes his best vocal ever.
In The Golden Moment: Recording Secrets From The Pros, Hatschek interviews 55 top recording engineers who currently work in nearly every genre of music, from Hip-Hop to Heavy Metal Rock. There are 'golden moment' interviews with hit makers like: Bob Rock, Jimmy Douglass, Chuck Ainlay, Mitch Easter, Ed Cherney, Mick Guzauski, Richard Dodd, Joe Barresi, Chris Lord Alge, Elliot Scheiner and many more.
As you'd expect from this esteemed collection of engineers, the many technical aspects, secret tricks and absolute essential ingredients that go into making great sounding recordings are explained. The surprising, underlying and common thread with these greats is the importance of mentoring in their early careers. Mentoring, the passing of practical knowledge and culled experiences from veteran engineers to upcoming novices is in decline, a regrettable casualty of the home recording studio revolution. Engineer legend and 17-time Grammy winner Al Schmitt, who contributes the book's foreword, puts it succinctly: "The best way to learn engineering is to attach yourself to a mentor and emulate him." While all engineering newcomers should actively seek mentoring, this book will help bridge the gap by dispensing a treasure trove of useful advice.
The Golden Moment: Recording Secrets From The Pros has information about basic studio maintenance, acoustics, mastering, pod casting, high-resolution audio, multi-channel music mixing and a chapter on making money with your home studio. From BackBeat Books, The Golden Moment sells for $19.95. More at www.backbeatbooks.com.




The Golden Moment: Recording Secrets From The Pros
---
Web Page design is copyright © 2006 by Barry Rudolph