Guitar Revolution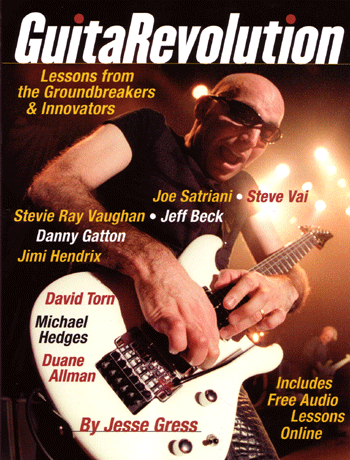 Former Guitar Player Magazine editor, teacher and touring guitarist Jesse Gress offers a gallery of guitar lessons from the modern masters of the instrument. These are articles from past issues of Guitar Player that feature world-class guitar players and innovators like Jimi Hendrix, Duane Allman, Stevie Ray Vaughan, Carlos Santana, Steve Vai and many other greats.
Each lesson offers solo transcriptions, lick-by-lick instructions, historical insights, stylistic background information and additional thoughts and opinions. In addition, there are notes about the equipment, guitar and effects used to bring off certain musical passages brilliantly.
I like the passionate writing style of these lessons--it shows the love and dedication required to master the guitar. Guitarists, songs and lessons featured are: Les Paul and "Caravan"; Cliff Gallup as taught by Jeff Beck; Jimi Hendrix with Dylan's "Along The Watchtower"; style lesson by Duane Allman; style lesson with Carlos Santana; style lesson and essential licks by Stevie Ray Vaughan; Line games by Alan Holdsworth; "Birds of Fire" by John McLaughlin; Passion And Fretwear--Steve Vai decade 1983-1993; Exploring the Crystal Planet with Joe Satriani; "Harlem Nocturne" by Danny Gatton; Mike Stern Monster II-V-I's; style lesson by Vernon Reid; style lesson by David Torn; style lesson by Michael Hedges.
Guitar Revolution: Lessons from the Groundbreakers & Innovators sells for $19.95 and is a must have for any aspiring guitar player. It is available at bookstores, online or by calling 866-222-5232. Go to www.backbeatbooks.com for more information.




Guitar Revolution From Backbeat Books
---
Web Page design is copyright © 2006 by Barry Rudolph