eJay's HipHop6 Virtual Music Studio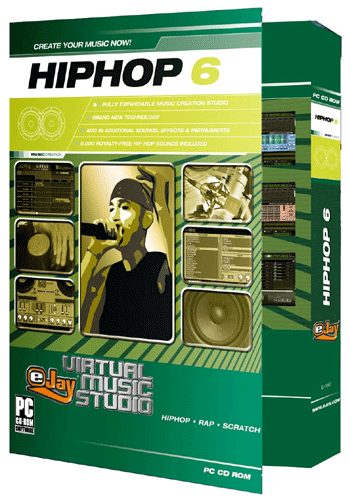 HipHop6 is virtual music studio software that runs on PCs and is styled specifically for producing HipHop, Rap and Scratch music. There are five virtual instruments along with mixing effects available for creating your tracks. The Main interface page is where you assemble, arrange and edit your tunes quickly and easily. Once you've got something worthy put together, throw down your vocal track, mix it and burned it to CD with the built-in burner program.
There are 5,000 royalty-free sound clips to build your tracks so there is no need to buy more sample CDs--but you could and use the new sample loop player that lets you import sounds directly from CD or any device connected to your soundcard without closing the program. You should have no trouble tracking songs with the DJ deck that quickly creates scratches from supplied or custom sounds. The multi-track drum machine lets you play and record your own beats and loops.
Add some bottom with the bass synthesizer and then chords with the polyphonic synthesizer. When you mix, you'll have echo, chorus, reverb, compressor, equalizer, and distortion effects to harden up the sound.
HipHop from eJay 6 sells for $49.95 MSRP all over including www.digitalleisure.com and for much more information, try
---
Web Page design is copyright © 2006 by Barry Rudolph