M-Audio Axiom Pro USB/MIDI Controllers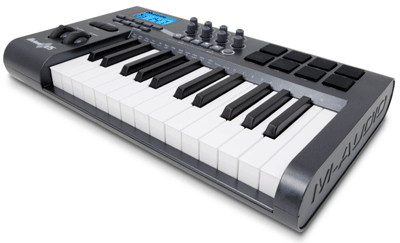 The Axiom controllers come in 61, 49 and 25-key versions. They have semi-weighted piano-like keys along with eight rubber pads for drum programming, eight endless rotary controllers, and on the Axiom 49 and 61 models, nine fader controllers and nine MIDI assignable buttons. You can freely assign any of the controllers to any MIDI parameters including independent, zone or global MIDI Channels. All on three models, there are also re-assignable 'tape' transport buttons.
The 25-key model I recently purchased (pictured) is class-compliant with both MAC OS X and Windows XP computers--it's really 'plug n' play!' By the way, there is no power supply as the keyboard is powered from the USB bus--sweet! This is a great feature for on-the-go lap top music makers.
All three models have a backlit LCD screen that provides instant feedback of all changes and controller datum. Actually the programming used by the M-Audio Oxygen controllers is used here so the Axiom would be an excellent upgrade for those users looking for a better feeling keyboard action. All three models have a 20 slot non-volatile memory for storage of setups and they support SysEx and M-Audio's freely available Enigma patch editor/librarian.
I like the new Axiom because I was playing all my virtual synths as soon as I plugged in the USB connector. In fact it works right out of the box by way of 20 presets with supported software like GForce Oddity, Way Out Ware TimewArp 2600, Propellerheads' Reason, NI's B4, and many more.
The Axiom 61 is $379, the Axiom 49 is $329 and the Axiom 25 is $239 MSRP. For more information, contact at: www.m-audio.com.
More information about Ableton's Live support for the Axiom line at: www.ableton.com/index/news-archive/axiom-support. I received a copy of Live 3 Lite with my Axiom 25 purchase so the controller is ready to go!!
---
Web Page design is copyright © 2006 by Barry Rudolph