Million Dollar Mistakes by Moses Avalon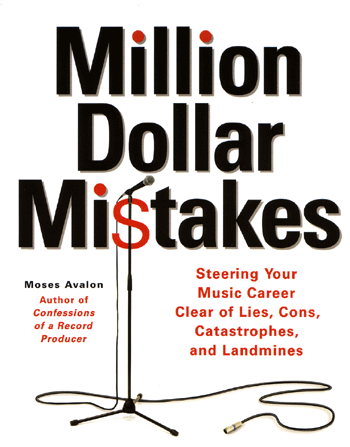 Author Avalon steers well clear of outright cynicism in his new book, Million Dollar Mistakes--not an easy task considering the subject! From the author of the successful Confessions of a Record Producer, this book's intent is to teach--show by examples of real life music business horror stories. This is the antithesis of a typical industry success story.
To illustrate the way things actually happen in the music biz--not the way they are supposed to happen, Avalon interviewed many industry pros to hear their story and discuss the facts and outcome. As you might suspect, the darker side of the music business is revealed. A business rife with criminal innuendo, personal grudges, intense rivalries between former friends and bitter lawsuits/countersuits. There is also the negative side too.
Some of the many things you'll learn are: the pitfalls of employing a family member; the marketability of suicide; the accepted level of lies and thievery in the music business; and the many contract screw ups caused by incompetence, ego and greed.
This book's appeal lies in these stories and Avalon's Monday morning quarterback calls explaining the actual reasons and details. For the most part, his authoritative explanations seem unvarnished and grounded in truth and reality. As his role as a reporter and teacher, Avalon succeeds in presenting these cases as fairly as possible considering he was not personally (or legally) involved in each and can't know all the minute details and truths on both sides.
For music business novices to wizened pros, it's a riveting, fast read making Million Dollar Mistakes by Moses Avalon a valuable and worthwhile reference book to read and own. From Backbeat Books, it sells for $19.95. It is available at bookstores, online or by calling 866-222-5232. Go to www.backbeatbooks.com for more information and visit www.mosesavalon.com
---
Web Page design is copyright © 2006 by Barry Rudolph