Neo Soul II from Big Fish Audio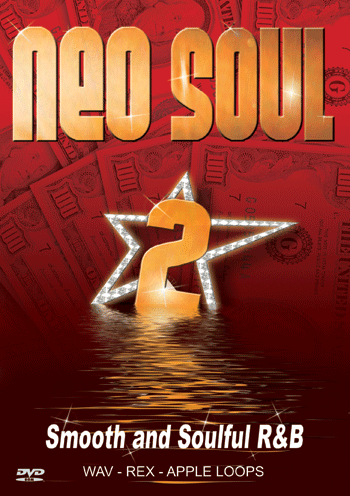 Neo Soul II continues the path set by Neo Soul I with modern sounding R&B grooves combined with new millennium Hip Hop, Jazz and R&B yet still reminiscent of 1970's soul music. Instead of four CD-ROMS as in NS 1, Neo Soul II comes on a single DVD-ROM and features over 3GB of loops and samples in three formats: Apple Loops, REX2 and WAV. There are 55 construction kits with tempos ranging from 51 to 137 BPM. Each kit contains a main mix (except the REX files) and each element is broken out as an individual loop. There is also a folder called One Shot that contains single hits of each drum.
Instruments used are: guitars, drum kits, congas, bass, Fender Rhodes piano, flute, Moog synth, strings, sax, noises and effects, organ, percussion, keyboards like a Wurlitzer and more.
Veteran producer and composer Josquin des Pres teams up with multi-talented newcomer Brett Michael Wiesman to deliver this second installment featuring a host of top notch players: Carl Evans on keyboards (Stevie Wonder, Barry White), David Stark on guitar (Rick James, Teena Marie), Tommy Aros on percussion (Luis Miguel), Chris Klich on horns and flutes, Josquin des Pres on bass, Michael Evans on drums and Dan Diaz and Fabien Renoult as engineers.
I immediately installed Neo Soul II into my Pro Tools rig and started dragging virtual rhythm sections onto the timeline. These tracks loop up without a hitch and are spot on with PT's metronome click. All the loops are clean sounding ready to be processed and mixed to fit whatever is required. The music's vibe transported me right back to the '70's--I expected to see Huggy Bear to show up all pimped out and looking cool in Starsky and Hutch's red and white Ford Torino. (Hope you've caught that classic '70's TV show on a rerun)
Neo Soul II from Big Fish Audio sells for $99.95 and for more information, a demo and/or to buy it go to: www.bigfishaudio.com
---
Web Page design is copyright © 2006 by Barry Rudolph