Nomad Factory Analog Signature Studio Channel

Read Barry's Mix Magazine Feature Article On Compression and Compressors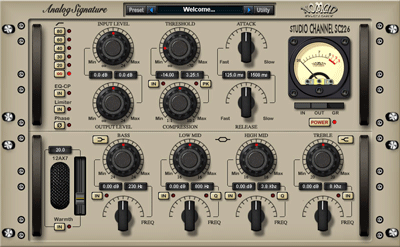 Nomad's Analog Signature line of plug-ins is comprised of the EQP-4 Program Equalizer, the Limiting Amplifier LM-662 and the Studio Channel SC-226. These plug-ins cost $149 each or buy all three for $287 directly from www.nomadfactory.com. All the Nomad plugs are available in RTAS, VST and AU formats for Mac OSX and Windows 2000/XP. They work in any DAW at up to 192kHz sample rates.
I've been using the Studio Channel SC-226 because it emulates a rack of old vintage and cranky vacuum tube audio processors from the '50's. It has a four-band equalizer with both shelving and bell-shaped filters, an analog "signature" optical compressor, and brick-wall peak limiter designed to reproduce the warmth of vintage recordings. The GUI is very vintage looking with big knobs, rotary switches, old-style VU meter, and clunky toggle switches.
The four-band EQ starts with a low frequency range of 22Hz to 820Hz with either peaking or shelving curves and an amazing boost/cut of +/-24dB! The Low Midrange section overlaps the low section from 200Hz to 3kHz (+/-16dB) and it has a high Q mode perfect for scooping out annoying frequencies from snare drums to aberrant lead vocalist. The High Mid section (+/-16dB) again overlaps from 1.2kHz to 6.8kHz and also has a high Q button. High frequencies on the EQ range from 2kHz to 18kHz in peaking or shelving with up to +/-20dB boost/cut.
The compressor section has a low frequency roll-off (switchable) from 20 to 80Hz, an Input control for forcing more level into the compressor, adjustable Threshold, Attack and Release controls and a Peak limiter to absolutely control peak levels. There is also a 12AX7 tube emulation "warming" stage to make sure you get plenty of tube distortion all over the sound.
I like the sound of this plug because it can be sloppy, unclean and rude sounding after just a few mouse moves. Most plug-ins aim to be clean, transparent--clear and unobtrusive to the sound and the SC-226 can be 'tamed' to behave properly if you desire. But it really lives to Rock and trash the audio quality a bit like an old broken tape deck would.
So big thumbs up for the SC-226 and for more about it, contact www.nomadfactory.com.
---
Web Page design is copyright © 2006 by Barry Rudolph