Numark KMX02 Karaoke DJ Mix Station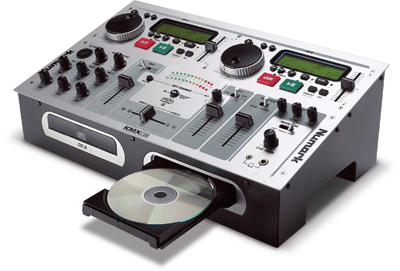 Numark is very clever to add the ability change the key of any music played through this mixer. This 'pain-saving' device for both the singer, the audience and the karaoke operator could be god-sent. The KMX02 allows DJs to change the key of the source CD, in half-step (one semitone) increments. You can match the music to the vocal range of your karaoke users on the fly--instantly. Tempo is also adjustable with a plus/minus range of 12% for both CD channels for additional mixing and beat-matching options.
But that just the start of the 'nuts and bolts' of the KMX02, a compact, highly-portable mixer featuring dual CD+G drives and three microphone inputs, each with their own tone control and echo effects.
Additionally, the two crossfader-controlled video outputs allow for professionally looking video switching and the KMX02's fader start buttons facilitate precise song cueing every time.
Much more at www.numark.com.
---
Web Page design is copyright © 2006 by Barry Rudolph