OtterBox 1900 PDA Case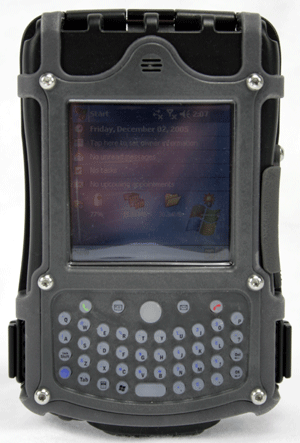 OtterBoxes are specially designed ruggedized outer cases for fragile PDA (personal digital assistants), GPS (global positioning system), tablet PCs or other handheld electronic devices such as an iPod or HP's 6500 iPaq. The 1900 case at $99.95 provides complete protection for any PDA (such as a Palm, iPaq or Axim) from water submersion, crushing, dropping and all other harsh conditions you may encounter in the great outdoors. It does all this and still allows complete functioning of the PDA without removal from the OtterBox.
The OtterBox 1900 I received has tight-working latches that split the case in half for insertion of the PDA. There are straps and cushioning inside to protect the unit and locking screws are included to hold down the latches for extra security. Typically OtterBoxes are made from injection-molded glass-reinforced, polycarbonate shells with the addition of thermoplastic over the moldings. They come with a latched removable top for access to the CF or SD memory card slot; removable bottom panel for sync and charging access; a waterproof plug cover for connecting a headphone cable; a WL Gore membrane vent so PDA sounds can be heard without dirt and water entering; a hinged screen cover flap that reveals an internal, clear (replaceable) membrane that allows you to use your stylus on the PDA's screen--even in the rain.
On a recent camping trip the OtterBox saved my PDA from certain death when they fell off the roof of my car when unpacking. I like the very tough construction and the quality of all the materials used. All the latched parts fit tightly and have gaskets to insure against any moisture intrusion from snow or rain. The 1900 also comes with a stylus holder slot and a stretchable strap with Velcro for wearing it on your belt or attaching it to you backpack.
Learn much more about the different OtterBoxes available at: www.otterbox.com
---
Web Page design is copyright © 2006 by Barry Rudolph