Bias Peak Pro XT 5 Now Peak Pro 6 XT

Read Barry's Mix Magazine Feature Article On Compression and Compressors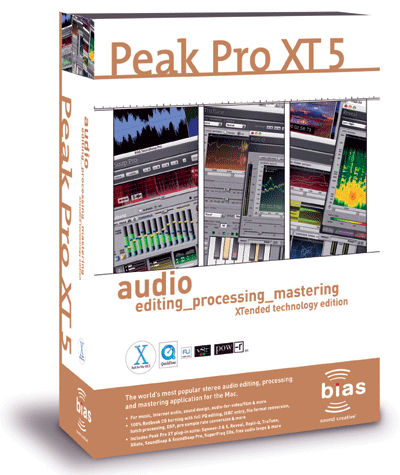 Bias Inc. has the latest iteration of Peak, a fabulous digital stereo editing, processing, mastering, and delivery application for the Macintosh. Version 5 adds a professional playlist page/editor and fully integrated 100% replication-ready Redbook CD burning with facilities for ISRC entry, writing CD track indexes, PQ subcode editing, CD-Text and optional DDP file export. Disc Description Protocol master recording files are being demanded by more record companies these days.
With Peak Pro XT 5 you get one of the highest quality sample rate converters available for the best sound when going from 24-bit to 16-bit CD or if you have to convert 96kHz sampled audio down to CD quality. Version 5 also supports plug-in formats like VST and AU with Automatic Latency Compensation and you can add the Master Perfection Suite of Bias plug-ins that includes: GateX noise gate: PitchCraft for correcting pitch or transposition; RepliQ--a linear and matching equalizer--match the sound of an unknown equalization curve and apply it to another file; Reveal is a toolkit of seven audio analysis instruments; Squeez-3 & -5 are two multi-band compressor/limiter/expanders; and SuperFreq bundles four, six, eight and ten band parametric equalizers.
Peak Pro XT 5 Studio Edition ups the ante even more by including both SoundSoap 2 and SoundSoap Pro restoration plug-ins. These also run as RTAS plug-ins if you have Pro Tools also on your computer. SoundSoap Pro save the day on a recent Pope John Paul II DVD when I engineered the sound track. On camera, over 20 different famous actors read the pope's prayers and poems over a music bed I helped record and mix. The audio quality of the actor's narrations (supplied to us) was horrible--low recording level, video camera noise, background noise, hum and distortion. Using SoundSoap Pro, I washed completely these audio tracks and restored them to pristine quality before the final mix.
With more new features I can fit here including: MIDI implementation for playing a virtual instruments; five insert paths; Recover Audio File for recovering damaged audio files; max file size now 10GB; and hi res tape-style scrubbing via Core Audio, Peak Pro XT 5 Studio Edition sells for $1,399 and is available from Bias Inc. at 707-782-1866 or www.bias-inc.com.
---
Web Page design is copyright © 2006 by Barry Rudolph