Pedal Tuners from Planet Waves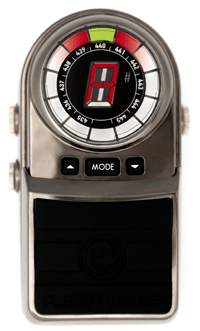 The new Foot Pedal Tuner ($119.99) is one of five new tuners offered by Planet Waves. The other four are: S.O.S. or Strobe-On-String ($19.99) where two strobe LED lights up a string and stops strobing when the string is in tune; Multi-Function ($54.99) is an in-line tuner with a sweep/strobe rotary display; Pro-Winder ($59.99) is a guitarist's multi-tool with chromatic tuner, string winder-cutter-stretcher, and bridge pin puller; and the Full-Function Tuner & Metronome ($119.99) is a deluxe sweep/rotary tuner and metronome with beat subdivision and odd time signature capabilities.
The Foot Pedal Tuner comes in a familiar-looking stomp pedal case die-cast body with a black chrome finish. This one features a hard bypass switch so there are no worries that the tuner may "load" or affect other pedals in your effects chain. There are two output jacks for either a muted output when tuning or straight through to your amp. The Mode switch changes the tuner between sweep, strobe and calibration modes.
I liked that in both sweep and strobe modes, you get both an alphanumerical readout of the note played and also a sweep or strobing display going sharp or flat to indicate the exact pitch. A green LED lights when the sweep stops dead center and in tune.
The Foot Pedal Tuner runs on a standard nine-volt battery and there are two external jacks for 'daisy-chaining' other pedals to a common pedal board power supply. For more information on Planet Waves products, visit www.planetwaves.com.
---
Web Page design is copyright © 2006 by Barry Rudolph