12GB Micro Hard Drive from PNY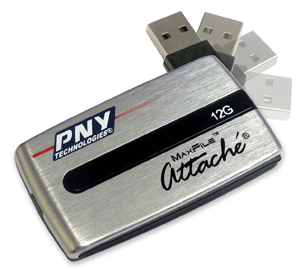 Unbelievably, the new PNY Technology's MaxFile Attaché holds up to 12GB (12,000MB) of data and is powered through its connection to any USB 2.0 jack on your PC or MAC. Only slightly bigger than a traditional USB flash drive, this extra-small drive (2 by 1.5 by 0.75 inches) includes Migo backup and synchronization software so users can sync everything from their e-mail, documents, favorites and settings wherever they go.
I recently found the MaxFile very useful when running a Pro Tools system for an upcoming TV music show. Pro Tools session files, multitrack audio files, large stereo music files and smaller MP3 files had to traveled (by courier) back and forth between the system at my studio and the music director's on the sound stage. With music and edits changing nearly hourly, using the Internet for file transfer was too slow even with high-speed connections at both ends.
With 12GB of memory, MaxFile Attaché can store thousands of documents, presentations, digital photos, songs, games and hours of video. To transfer data quickly, the drive features read/write speed up to 11MB/sec. for direct access to the files directly, without first copying them to your computer's desktop. Other good features include a durable, aluminum outer case, 'flip out' folding USB connector and leatherette carrying belt pouch.
PNY's MaxFile Attaché is available from leading retailers and e-tailers nationwide with an MSRP of $169. A 8GB version is also available for $119. Check www.pny.com for more.
---
Web Page design is copyright © 2006 by Barry Rudolph