Primera Bravo SE CD/DVD Duplicator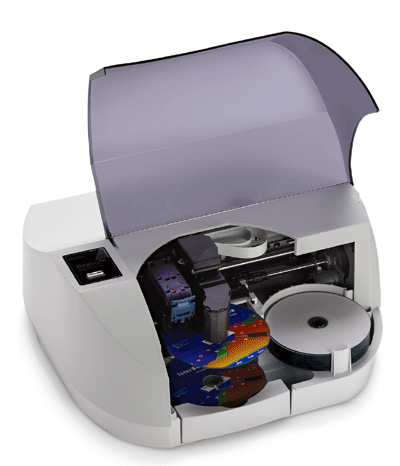 If you have to burn any significant number of CD or DVD copies AND print labels on a regular basis, it makes good sense to get a Primera Bravo SE. The Bravo SE automates the entire burning and printing process using an advanced, sixth-generation robotic mechanism to transport discs, one by one, back and forth, into the built-in Pioneer DVR-111 DVD±R/CD-R recorder. After recording, each CD or DVD is individually inkjet-printed direct-to-disc in full-color at up to 4800 dpi resolution. The SE holds up to 20 discs per job and runs autonomously, unattended and hands-free.
Studio owners, songwriters, publishers, record producers will quickly earn back the $1,495MSRP cost of this system in gained productivity through better time management. Other users include marketing, public relations, engineering and training departments, churches, film and video producers, photography studios, schools, and government agencies. Virtually any digital information can be stored and copied on CDs or DVDs, including audio, data, video, photos and text files.
Bravo SE attaches to any PC running Windows 2000/XP or MAC running OSX through its high-speed USB 2.0 interface. The Bravo SE comes with PTPublisher SE duplication software, CharisMac Discribe duplication software, SureThing CD Labeler design software and design templates for Adobe PhotoShop and Illustrator.
The Bravo SE DVD/CD Publisher is $1,495 and the Bravo SE AutoPrinter, a no-drive, automated printing solution is priced at $995. Check www.primera.com for more information.
---
Web Page design is copyright © 2006 by Barry Rudolph