PSP Audioware Neon EQ Plug-In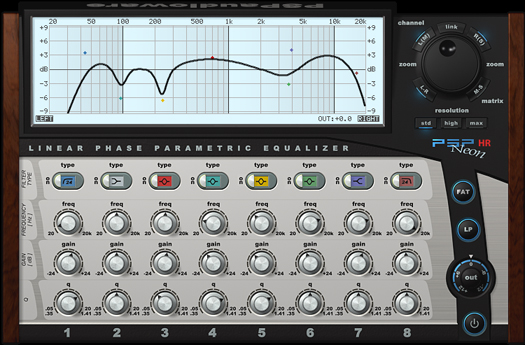 Both the analog-modeled PSP Neon and Neon HR are linear phase equalizers with eight bands of equalization. A unique feature of this plug-in is that each band is assignable to one of seven different filter types. Now some tech-speak: PSP Neon uses frequency-domain fast convolution based linear phase algorithms for the best balance between CPU efficiency and phase accuracy. An equalizer that uses a linear phase algorithm adds no phase distortion--the main downside when using any EQ whether analog hardware or digital software-based like this one. PSP plug-ins for RTAS, AU or VST hosts, (that covers Cubase, Nuendo, Pro Tools, Garageband, Logic), are known for their maximum CPU efficiency and great sound and these Neons are no exception with their pristine, transparent response.
Neon's minimum phase error Infinite Impulse Response mode uses even less CPU resources--more CPU resources means you're able to run more plugs and/or tracks. The PSP Neon HR version offers operation up to 192kHz sample rates, PSP Audioware's proprietary FAT mode, independent processing and control of each stereo channel, stereo and mid-side operation, and high and max resolution modes for mastering projects.
I've been a big fan of this companies' plug-ins for sometime now and like all their new products, Neon does not disappoint. I used Neon on a very rough sounding vocal sound to correct a bad microphone choice and even worse recording job. The eight-bands are the greatest to chop out certain specific frequencies and then boost others very close by. This is a very precise piece of sonic surgical equipment!
Downloadable at www.pspaudioware.com, prices are: PSP Neon HR at $299; PSP Neon for $149; PSP MasterPack at $569--it consists of PSP Neon HR, PSP Neon, PSP VintageWarmer, PSP MasterComp, PSP MasterQ equalizer. More info about Neon at: www.PSPaudioware.com/plugins/neon.html
---
Web Page design is copyright © 2006 by Barry Rudolph