Radial Reamping Pack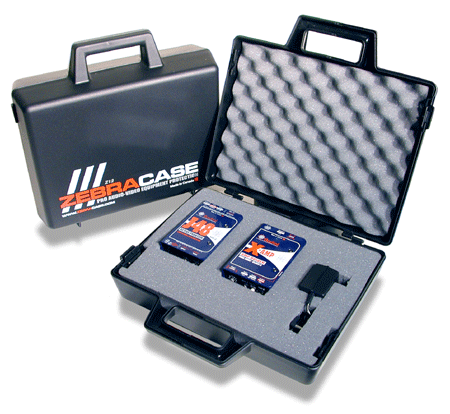 The Radial Reamping pack is their J48 direct box and X-Amp active re-amplifier packaged together in a lightweight, hard plastic Zebracase.
The J48 is an active direct box powered by 48-volt phantom power that is well suited for high impedance sources like guitars and basses. It has a -15dB pad, ground lift, feed through for sending to an amp, polarity reverse, 80-Hz high-pass rumble filter and a unique merge mode for mixing two signals (like a stereo keyboard) down to mono.
X-Amp is a reamping device--an interface that allows low impedance pre-recorded line level signals from your tape deck or DAW to be sent to the high impedance input of a guitar amp and/or pedal effect. Features include: XLR balanced line level input with LED peak indicator, level control, all Class-A circuitry, both direct and transformer-isolated guitar amplifier outputs, dual ground lifts, and polarity reverse for correcting the inherent phase differences between guitar amps.
Reamping is a technique that reduces the urgency and stress of getting the 'ultimate guitar sound' during a session. We used the reamping kit while working with a band in a small DAW based writing room. There were no amps in the room, but with the reamping kit we were able to record the guitar direct with the J48 while simultaneously sending the signal to a Line 6 POD-XT for a quick guide sound.
Later, with the performance perfected and recorded, we went to another room full of a great assortment of guitar amps and vintage outboard gear. Using the X-Amp, we connected the audio from the direct guitar track to an amp and effects and tweaked to our hearts content, creating the coolest guitar sounds without worrying about slowing down the creative process. We love this newfound ability so much that the Reamping Kit has now become a mainstay in our recording/production workflow.
Both the J48 and X-Amp are housed in 14-gauge, crush-proof I-beam framed boxes and come together in the attaché-style Zebracase. Radial Engineering at 604-942-1001 or www.radialeng.com
---
Web Page design is copyright © 2006 by Barry Rudolph