Reason Drum Kits 2.0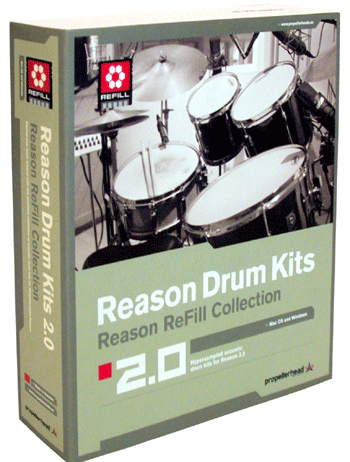 Read About The Latest Propellerheads Reason/Record Bundle!

Propellerheads Software's Reason Drum Kits 2.0 ReFill is a collection of drum kit recordings designed for Reason 3.0 because it uses the new Combinator device to store and recall complete sessions as single patches. An entire session can be loaded or swapped with a single click and contains: the sounds, the room, EQ, effects, signal routing, the player's feel and the multiple output console levels of the professionally-engineered drum sample sessions.
Propellerheads has enlisted famous producers and engineers to build Combinator patches by recreating their signal flow and effects chains and the drum sounds in the Hypersampled libraries. Stockholm's world famous Atlantis Studio was used to record all drum samples using the Hypersampling method of multiple velocities. Up to 80 samples of single drum are available; multiple same velocity sampling where alternate versions of the same sample are use for more realism; multiple playing styles to imitate the way drummers change grip and technique; multiple microphones for capturing and controlling distance, ambience and character. Each microphone has it's own channel in the Reason mixer.
The Reason Drum Kits package comes with 17 preset kits created from more than 10,000 samples (in both 16 and 24-bit) on a single DVD-ROM. The kits are divided into genres with styles covering pop/indie, funk/soul and rock/metal. Musician's who use ReWire-enabled audio recording software such as ProTools, Logic or Live can use Reason as a dedicated standalone drum studio and drummer.
The Reason Drum Kit ReFill is $129 MSRP at www.propellerheads.se Upgrades from Reason Drum Kits 1.0 are available for $36.
---
Web Page design is copyright © 2006 by Barry Rudolph