Sabian HHX Legacy O-Zone Ride Cymbal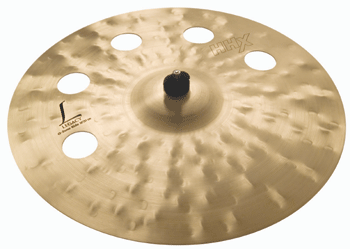 I love when a new sound is created physically (rather than electronically)--by actually inventing a new instrument or technique. The 20-inch HHX Legacy O-Zone Ride is Sabian's latest venture with its innovative 'multi-hole' cymbal design. Five large holes across its upper half removes a substantial amount of metal causing that area to be comparatively light and responsive. The top portion is ideal for crashing while the lower portion remains intact--unlathed and best for riding.
Sabian has been making multi-holed cymbals for about ten years and started selling them after drummer Dave Weckl took notice. This holed concept transforms the sound of any cymbal, making it more responsive while increasing its aggression and bite. With the Legacy O-Zone Ride it is possible to play sounds that are dark and dirty or when played hard, build up a "storm of roaring aggression."
The HHX Legacy O-Zone Ride is of medium-thin weight that, due to the holes, responds like a thinner cymbal. Playing the upper area creates a raw, trashy response. Playing the lower half produces a ride sound that combines soft stick articulation with a dirty wash of tone.
HHX Legacy O-Zone cymbals are individually handcrafted from Sabian B20 cast bronze. They are available exclusively in Natural Finish, and are quality-protected by a special Sabian two-Year warranty. For much more, visit www.sabian.com.
---
Web Page design is copyright © 2006 by Barry Rudolph