Sony Oxford Limiter Plug-In

Read Barry's Mix Magazine Feature Article On Compression and Compressors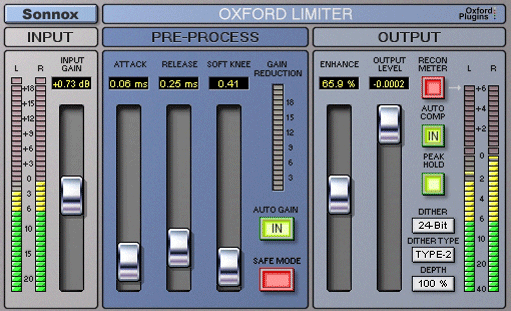 For Pro Tools users, Sony Oxford has a truly reliable tool to maximize stereo mix levels right up to the legal limit! Legal meaning no overloads that CD pressing plants could reject your master CD for replication. The Oxford Limiter is a specially designed program limiter that uses logarithmic side chain processing, adaptive timing functionality and look-ahead techniques.
I installed this wonder in my Pro Tools HD3 Accel rig and immediately put it to work on my mix of a new parade theme for a chain of amusement parks. Using this plug-in is somewhat like using any compressor/limiter with Gain Reduction meter, Input Gain, Attack, Release, Variable Soft Knee controls but you should study the manual beforehand to get the most out of it and your mix.
I used it on the master stereo buss and adjusted it until I had more loudness with minimal side effects--dulling the high frequencies and the dynamic "pumping and breathing" of the track. The Oxford Limiter is a powerful tool and has very exacting metering that can be trusted to tell you when you are overloading the mix buss, the TDM buss or exceeding the maximum allowable output level for 16-bit CDs. In fact, the meters indicate inter-sample overloads and then the Auto feature allows for dynamic correction of reconstruction overloads in real-time. The Enhance function allows volume and punch to be applied beyond what's available from conventional limiters without over-loading.
Finally, there are full dither facilities available including variable depth noise shaping for better mastering output quality in either 24 or 16-bit final master files.
The Oxford Limiter Plug-in for Pro Tools TDM (PTH-LIMG2) has become a mainstay--a requirement on all my mixes and sells for $530 MSRP while the LE version (PTL-LIMG2) goes for $350. Much more information is available at www.sonyplugins.com.
---
Web Page design is copyright © 2006 by Barry Rudolph