SoundToys Native Effects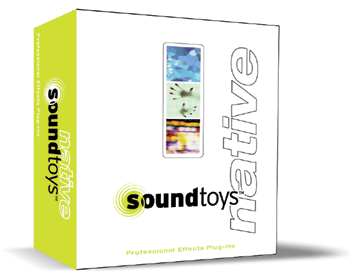 SoundToys Inc., formerly Wave Mechanics, has the SoundToys Native Effects bundle for Mac OS X. At $495 MSRP, you get six of SoundToys' most popular and powerful plug-ins in a single package for the first time for Pro Tools LE on the Mac OS X platform. (RTAS for XP and AudioUnits support to follow.)
These are full versions not purposely crippled effects like other companies offer that (I posit) are supposed to frustrate people into buying the full version. There is my favorite SoundToys plug-in, the very popular EchoBoy with its 30 echo/delay emulations of vintage and modern delay units, three-band EQ with decay shaping, and a realistic analog sound and response. If you love studio tape delay, and the old Echorec, Binson or Echoplex units, you'll want Echoboy.
For interesting sonic treatments there is FilterFreak, an analog sounding single or dual resonant filter with six modulation modes including programmable rhythms. FilterFreak is my go-to effect when I'm out of ideas for an effect on a track that has to get something.
PhaseMistress emulates classic and modern phase shifters with the same extensive modulation schemes of FilterFreak. Insert Tremolator for classic tremolos or in Rhythm Mode, extreme auto-gated rhythmic effects. Crystallizer is a reverse granular echo with MIDI sync and tone control. (What? Just insert it and be amazed!)
Finally one of my favorite all-time track speed changer: SPEED (AudioSuite only), a high quality tempo/time control and pitch shifting with Simple, Graphic, and Calculator modes.
Upgrades to SoundToys Native Effects are available to registered owners of SoundToys UltraFX bundles. Owners of select individual SoundToys plug-ins may also be eligible for upgrades. Complete details of the upgrade options and prices are available from www.soundtoys.com.
---
Web Page design is copyright © 2006 by Barry Rudolph