Tascam Launch Pad Starter Kit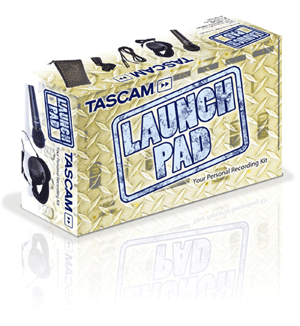 LaunchPad is a starter recording kit for musicians to begin recording right now. The kit includes headphones, cables and a microphone all at under $100MSRP. The LaunchPad is the ideal accessory for musicians to start recording with their TASCAM DP-01 Digital Portastudio, cassette Portastudio or USB computer interface.
The LaunchPad kit is not a collection of old, discontinued and/or cheap gear either. You get a pair of Tascam HP-VT1 studio-quality headphones and a Tascam Fox microphone designed by MXL. MXL is a pro mic maker whose mics are used by professionals in actual recording studios on hit songs. The Fox mic comes with a mic stand clip, mic pouch and cable--you're all set.
Look for this kit at most music stores--it's about $100 and for more information, Tascam is at 323-726-0303 or visit www.tascam.com.
---
Web Page design is copyright © 2006 by Barry Rudolph