TC Electronic G-Sharp with G-Switch and G-Bag

G-Sharp is a rack mount alternative to floor stomp pedals and is especially designed for precision digital modulation and time-based effects. It has 99 user-designated presets and 256 factory presets that have been meticulously tweaked to suit the desires of the most tone-conscious guitar player. G-Sharp's advanced modulation/delay engine allows for combining any of its 15 different effects with any of the 15 different onboard reverbs.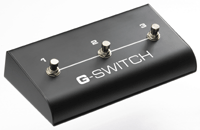 In addition to the 2 x 15 effects, G-Sharp offers true delay spillover--i.e. the delay's repeats die out naturally even after the delay patch has been changed. This feature is super-important for guitarist who would build different sounds/patches for each section of a song. G-Sharp also has tap tempo, mono and stereo compatibility, digital I/O and internal power supply. Of course G-Sharp has full MIDI and TC Electronic G-Switch footswitch compatibility.
Check out a G-Sharp now and get in on this rare manufacturer promotion! More at www.tcelectronic.com.
---
Web Page design is copyright © 2006 by Barry Rudolph