URS Everything EQ Bundle ver 5.0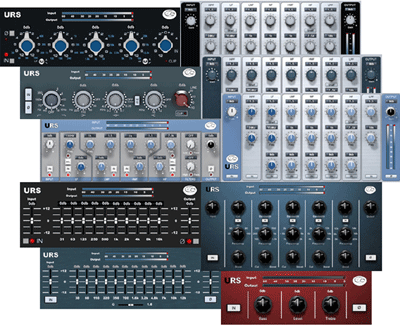 URS or Unique Recording Services has one of the most complete and sought-after equalizer bundles. The URS Everything EQ Bundle ver 5.0 comes in VST, AU (called Native) and TDM versions for Mac OS X or Windows XP computers. Ten of the most coveted and classic equalizers are faithfully modeled here and they sound great! You can buy all ten in the Everything Bundle for $2,299 for TDM and $1,199 for the Native versions or buy them in any of four separate bundles.
The Classic Console bundle ($899 TDM and $449 Native) has four plug-ins: the URS A and URS N series that sound like the API 550B and Neve 1084 modules and the URS A and URS N Mix EQ--seven-band parametric equalizers.
The S Series Mix Bundle ($499 TDM $249 Native) has two, the URS S Series and URS S-Mix EQs that resemble and sound like the famed Solid State Logic console equalizers.
The Classic Console Graphic EQ Bundle ($899 TDM and $449 Native) has the URS A10 and N12 ten and twelve-band graphics modeled in the API and Neve mold.
Finally, the FullTec Five-Band Program EQ has two-band URS BLT EQ and five-band FullTec models based on vintage tube-based equalizers.
Besides modelling the great sound of now super expensive and vintage units, these plug-ins also impart a certain analog "je ne sais quoi" to any track you have in Pro Tools or any other DAW. I especially like the A10 graphic for kick and snare--just like the original, hardware analog API model and the N Series for vocals and guitar--it is just like the famed Neve module. I found these plug-ins to install and work perfectly with no hitches in my Pro Tools HD rig running 7.1cs and MAC OS X 10.4.5. I use them everyday and they always elicit complements from my clients. Download a trial and buy them at www.ursplugins.com.
---
Web Page design is copyright © 2006 by Barry Rudolph