VoiceSolo from TC-Helicon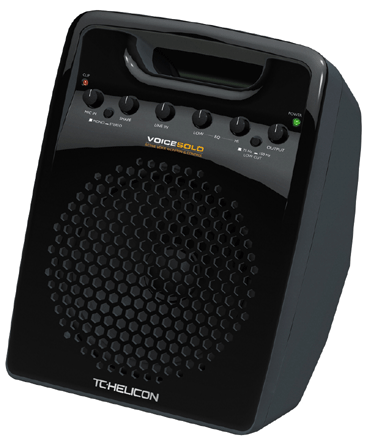 Imagine expressly designed near-field vocal monitor speakers. TC-Helicon has fulfilled this dream with three different models to fit any existing PA system and stage setup. The VoiceSolo range consists of the passive VSM-200P monitor ($275 MSRP), the powered VSM-200 ($420), and the powered VSM-300 ($560) with personal mix controls.
All the models have especially designed "true point source drivers" that are said to reproduce the human voice naturally and in a highly intelligible way. I tried these monitors out at the last NAMM Show and they have the ability to cut through the band mix (and even the cacophony of that tradeshow) without blowing your ears off by way of shear high volume.
Besides many different mounting options, TC-Helicon even thought to make the monitors mount on to standard mic stands. You may not have to buy extra stands if your venue already has them. The powered models use a 150-watt amplifier with microphone/line inputs and all three models are built into die-cast aluminum enclosures that seem roadie-proof.
The VSM-300 model has a professional I/O box with Mic In, Stereo Instrument, Aux, and splits to go to the front of house console as well as front-mounted personal mix controls ("More Me" controls) including the VoiceShape tone circuit that adds a studio microphone tone to typical live microphones.
For much more about these cool little personal stage vocal monitors contact TC-Helicon at 818-665-4900 or visit www.tc-helicon.com
---
Web Page design is copyright © 2006 by Barry Rudolph