Waves SSL 4000 Plug-In Bundle

Read Barry's Mix Magazine Feature Article On Compression and Compressors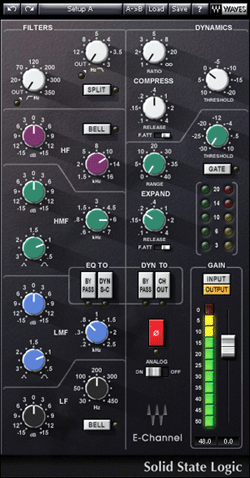 Waves' SSL 4000 bundle of TDM/VST/AU/DirectX plug-ins for both MACs and PCs are modeling on the sonic "heart and soul" of the famed SSL 4000 mixing console--a console that has helped to shape the sound of modern records for the last twenty years. Waves' engineers worked closely with SSL engineers to get the operation and sound exactly right. And having mixed many records on SSLs myself and after using these plugs for the last five months in Pro Tools HD Accel, I'm a believer!
The three expertly modeled plug-ins in this bundle are: the SSL G-Master Buss Compressor, SSL E-Channel and SSL G-Equalizer. To be sure, the hardware G-Master Buss Compressor is one of the most sought after and used stereo mix buss compressor and this plug-in did not disappoint me at all. I set it up exactly as I do when using the console and it does exactly the same thing--what more could I want? It has become a mainstay on my mix buss and for stereo keyboard pairs that need dynamic control.
The SSL E-Channel has both sections of the original hardware channel strip: the Black Knob equalizer, developed in 1983 in association with legendary producer George Martin; and the SSL lS611E soft-knee compressor/limiter and expander/gate. Like its hardware counterpart, the E-Channel plug-in is for serious shaping and carving with a steep high pass filter for tighter low frequency control, enhanced cut and boost ranges and powerful expander/gate. I find this plug-in perfect for resurrecting lack luster drums, vocals and guitar tracks. It truly takes them to the next level.
The SSL G-Equalizer is modeled on the SSL G Series EQ292, a four-band equalizer with greater gain change than the E-Series EQ, a slightly different curve, and a broad Q for extreme equalization. The G EQ is perfect for keyboards and orchestral instruments. I like it for smoother sounds in general.
Again like the console originals, these two versions of SSL EQs cover all the bases--from aggressive to smooth treatment and anywhere in between. For more information, visit the Waves web site at: www.waves.com.
---
Web Page design is copyright © 2006 by Barry Rudolph